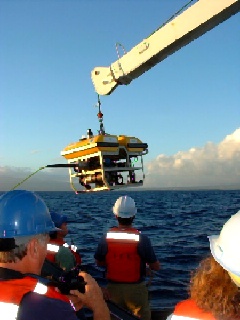 WHMSI was founded in 1998 by its Chief Engineer, Jim Newman.
Our primary client for our first dozen years was Dr. Robert Ballard's Institute for Exploration. We developed a suite of underwater vehicles for search and investigation, particularly in support of archaeology. Argus is a towsled that supports a high definition video camera, and HMI lighting. Argus can operate independently or as a partner for an ROV.  In 2000 we built Little Hercules, a small Remotely Operated Vehicle (ROV) with a 4000 meter depth rating and capable of carrying a very large High Definition camera. We operated these first two vehicles on IFE expeditions to the Black Sea (September 2000) and Pearl Harbor (November 2000).
We also developed and fielded a sidescan sonar survey system, Echo, and a shallow water ROV, Orpheus, that provided interactive trans-continental video experiences from NOAA's Monterey Bay National Marine Sanctuary.
In 2003 we completed a larger ROV, Hercules, which we operated during the summer of 2003 for archaeological work on ancient shipwrecks in the Mediterranean and Black Seas. We  supported a number of expeditions with Hercules and Argus in the subsequent years on a variety of support ships, including expeditions to investigate geology and biology in the Atlantic and a 2005 survey of the wreck of the RMS Titanic.
During 2009-2010 we were deeply involved in development of a new ship to support these systems, the Exploration Vessel NAUTILUS, for Dr. Ballard's new organization, the Ocean_Exploration_Trust .
Since 2010 we have been involved in a variety of projects for several clients, including the Ocean Exploration Trust.  (Please check out our clients' sites!)
Jim's personal web page is here.